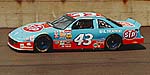 You're the
visitor who has popped in to check us out!!!

Hello! My name is AJ, and I'd like to welcome you to my Place!

Please be patient with me. My page is in dire need of an update, but due to family matters, it will have to remain under construction for the time being. Please feel free to check back anytime!!!
If you're interested in learning a little bit about my family and me, please check out my personal page!
Click Here!
Caution: My personal page is undergoing construction at this time!



Favorite Links!

You'll find all kinds of connections here!
Click Here!

Picture Gallery

Please feel free to check out my picture gallery!!! You'll find some of my favorite pictures of various drivers, plus a link to the RASN Image Archive!!!
Click Here

Sign My Guestbook View My Guestbook